Grab Best 2BHK Flats In Mohan Garden With Globe Real Estate Pvt. Ltd.
Looking forward to your dream 2BHK Flats in Mohan Garden for Sale?
Well, your search ends here with Globe Real Estate Pvt. Ltd. We bring the best quality independent homes in Mohan Garden and nearby areas in Delhi. Explore the wide range of properties with various features and amenities tailored to meet your needs.
Choose Your New Home In Best Location in Mohan Garden
We bring fully furnished houses that are ready to move in. Globe Real Estate has been a renowned name in the real estate sector of Delhi and brings numerous flats for sale in Mohan Garden. We bet you will love the properties and find them very spacious to live with your families. We keep complete transparency in our deals and handles all complex things at our end itself.
2 BHK Flats for sale in Mohan Garden are perfect for any middle-class family to spend livelihood. Explore the calm evenings in Mohan Garden and easier access to the market area. With a well-versed area and a silent neighborhood, your family can live peacefully. The area has various restaurants and food spots offering great cuisine.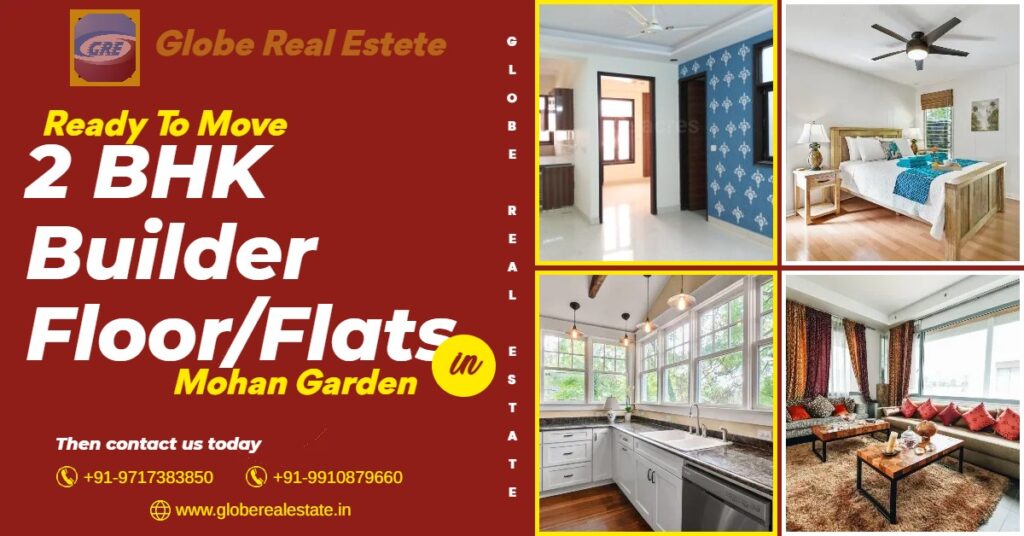 Get Spacious 2BHK Flats In Mohan Garden
We bring a plethora of 2BHK flats in Mohan Garden to choose from. No matter if you're looking for a residential flat in a well-established society, independent floor, builder flats, etc., we bring the perfect properties available for sale. Explore and choose the one suiting you and your family needs. 
Globe Real Estate inspects the properties on their end too and ensures that it is meeting all said points and expectations. We offer both furnished and semi-furnished 2 BHK Builder floors in Mohan Garden. Our core aim is to make the property search easier for the customers and help them achieve at affordable prices. Check out our luxury apartments and premium buildings for owning a lavishing home. 
Find Best-In-Class Properties In Affordable Costs
Our 2BHK flats in Mohan Garden are easier to purchase as we curb out all sorts of financial barriers. Our properties and houses come with a budget-friendly price and we can also arrange the home loan and other financial dealings for you. We are partnered with a lot of banks and financial companies and ensure to get the 90% home loan approval with ease.
Make a worthy investment by purchasing a home in Mohan garden and get a profitable deal for a lifetime. Our commercial properties are highly attractive and are designed and checked by skilled architects and engineers. The residential houses bring the top-notch comfort level in the city of growing economy and improved lifestyles.
All you need to do is to connect with us and our team will assist you with the entire steps and stages of the properties. We provide free-of-cost property inspection allowing you to be sure about your dream home look and feel. Ask us for suggestions and we will make it our responsibility to get you the perfect home as you expected.
Globe Real Estate provide 2 bhk flats for sale in Mohan Garden, Nearby Metro to Schools & Hospitals. Airport Connectivity. Amenities, CCTV Camera, Parking, IGL Gas Pipeline, Vastu Compliant, Get information, Request a Call back 9717383850