Globe Real Estate:- Buy An Incredible 2bhk Flat In Delhi
2 Bhk Flats in Delhi, Buy Apartments, Society Flat for Sale: For people who live in rental houses or flats, their biggest dream might be to own a place that they can call their own. Although it's a major step in life to finally own a place, the ongoing trends these days seem to put an emphasis on owning a flat or apartment as soon as one reaches adulthood.
According to a market analysis done by respective bodies, a major portion of the real estate market in India constitutes buyers originating from the working class of the society. However, in a city like Delhi which is always full of hustle and bustle, the most favored format of an apartment is 2BHK. Around 40% of the total buyers constituting the market look for 2BHK flats or apartments. But now the real question is – 'Why 2BHK flat in Delhi is so high in demand?'
What's So Special About 2 Bhk Flats in Delhi?
In spite of the fact that there are multiple intermediaries at work which lead to the popularity of 2BHK, there's one prominent perk of 2BHK flats that deserves special attention. 2BHK flats require less maintenance and demand low investment.
You can witness the difference when you try to compare the maintenance cost of 3BHK apartments with the maintenance cost of 2BHK apartments which sounds much lower. Surprisingly, when compared to the 1BHK flat in a similar manner the difference in maintenance cost with respect to 2BHK is far less. So it's a fine idea to find a 2 bhk flat in Delhi for sale.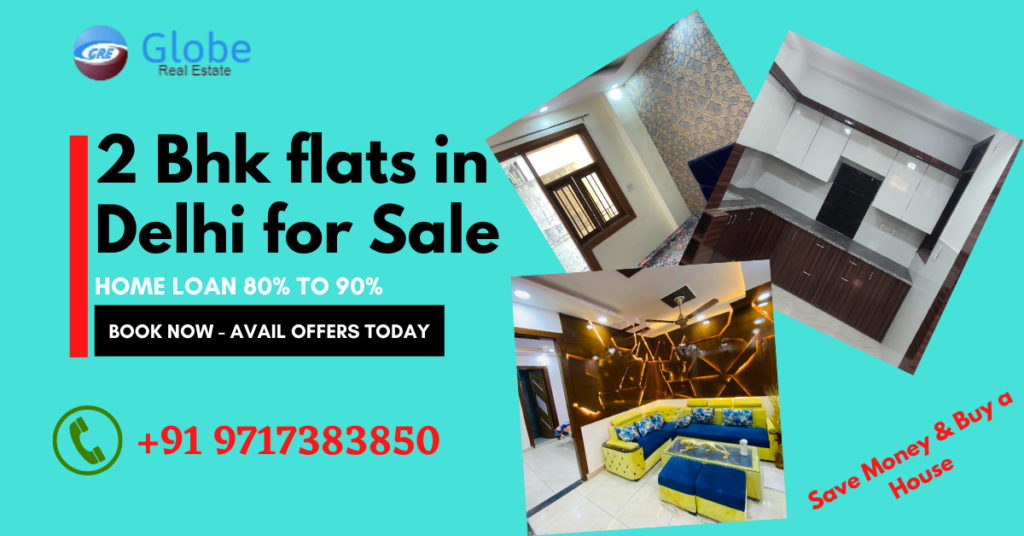 Why Choose Globe Real Estate?
During a deal, we all know that buyers and sellers are on the opposite sides of the fence facing each other, with the only exception of home sales. In-home sales, a lot of time is wasted due to the stagnation of the deal caused by differing opinions of both parties. Only through the assistance of legit real state agents like Globe Real Estates, can you buy 2 Bhk Flats in Delhi without going through any trouble.
Our team believes that both the buyer and seller share the same goal which is to be part of a 'Sale', so there's always room left for further discussion. With the help of Globe Real Estate, you can easily find a 2bhk flat in Delhi for buy. Some of our exclusive features are given below.
We Save Your Money– 2 Bhk Flats in Delhi
If you're familiar with the real estate business you may also be familiar with the term "FSBO" which is written as – 'for sale by owner' in its full form. 'FSBO' is a term only used when the seller lists their own home without receiving any help from an agent. Unfortunately, results for FSBO are oftentimes disappointing. But what if you're the buyer?
If you're a buyer, the most practical thing for you is to get in touch with Globe Real Estate for 2 Bhk Flats in Delhi for purchase. The price quotation received by the buyer from our agency does not include the commission, the one who is paying for the commission is only the seller. You can call us to know the legit 2 bhk price in Delhi.
We Rescue You From Any Extra Hassle
Not everyone has the patience to understand and manage numerous documents that are generally involved in a real estate deal. Regardless of your readiness, the buyer must always have an in-depth understanding of the deals they're getting into. That's why you should leave the documentation to Globe Real Estate who is far more familiar with the typical paperwork. If you want to buy 2 Bhk Flats in Delhi without wasting any time, call us as soon as possible!
Visit More Properties in Delhi NCR
Visit Our Facebook Page